South Gate Church of Christ
Monday, February 18, 2019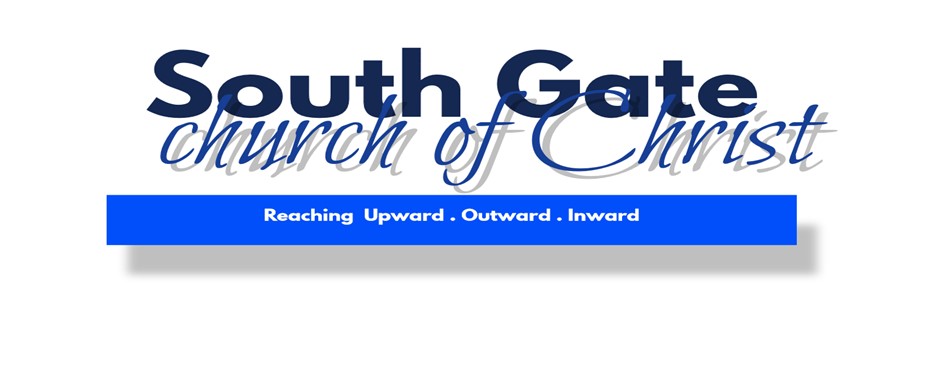 Updated

Monday, February 18 at 12:15pm

We are currently experiencing issues with our Charter email and can not send out bulk emails. We are trying to fix the issue.

Wednesday Service

Song Leading - Mike Kinzer

Prayer - Jim Pollard

Speaking - Greg Lusk

Sympathy is extended to Benny Bolton in the passing of his sister Shelby Hanvy.

Sympathy is extended to the family of Mary Chumbley in her passing.

Elizabeth Hargrove is now at home.

Elaine Whitehead has been moved to Life Care Center room 232-B




There will be a fellowship meal next Sunday (February 24) after evening service as a send-off for Trent and Lori Hill for their new work at the Summertown Church of Christ. Pizza will be provided. We ask that everyone to bring a dessert.

Upcoming Events at South Gate

February 25 - Estate Planning Seminar at South Gate. 11:30am

March 3 - Special Contribution for debt retirement. Fellowship meal after AM service. Regular 5:30pm service.

Area Events

January 10 - April 4 - Columbia School of Biblical Study at Graymere church of Christ. 6pm - Dan Cottrell "Overview

of the General Epistles" and at 7pm - Joel Oswalt "Psalms"

March 2 - Ladies Day at Scribner's Mill church of Christ. 8:15am breakfast. 9:15am Program. Please RSVP at fredardean@gmail.com. Celine Sparks will be the speaker.