South Gate Church of Christ
Monday, April 19, 2021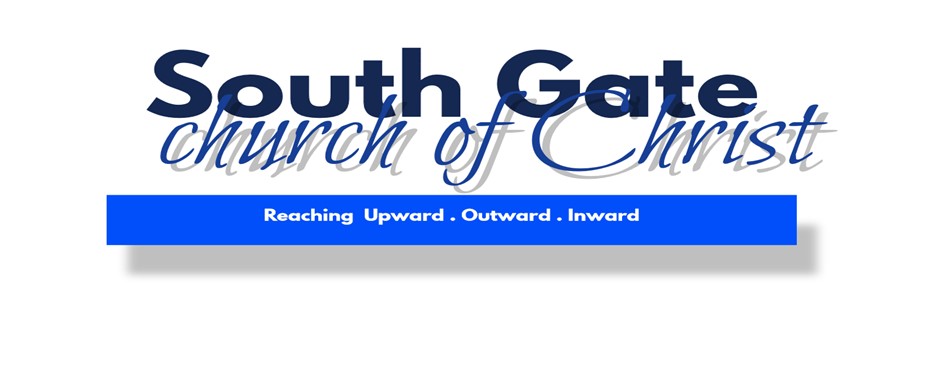 South Gate Church of Christ is a congregation of New Testament Christians who are excited about our salvation through the blood of Jesus Christ, and we strive to share this message of hope and joy with the world. When you visit us, we want you to feel comfortable. We know an unfamiliar place can be intimidating. Let us tell you what you can expect when you honor us with a visit.


A brief description of our background may help you understand us better. Our goal is to "restore" the New Testament Church in our time: to determine from the Bible what the church was like in the beginning, and to be like that. We believe this is a worthy and reverent goal. We want to be a Bible centered church. Yet, we know our conclusions aren't flawless, and that our practices are sometimes colored by habit, preference, tradition, or convenience.

Now, let us walk you through a worship service.

When you first enter our building, you will most likely be greeted by smiling faces in the foyer and you will then enter what we refer to as the "auditorium". There are no reserved seats, so feel free to sit anywhere you choose.

One of special things about the singing at South Gate -- and something you may find unique in today's culture -- is that the music is "acappella". That is, we sing without the accompaniment of mechanical musical instruments. This is a conviction with us, not just a preference. Our goal is to worship according to the New Testament pattern. Since the New Testament leaves mechanical instrumental music out (1 Corinthians 14:15; Ephesians 5:18, 19; Colossians 3:16; Hebrews 2:12) so do we. We further think you will find the singing very meaningful and everyone is invited to participate as we use our human hearts, the instruments our Heavenly Father gave us to sing praise to Him.

There will be several prayers to our Father during the service which will be offered by various men of the congregation.


You will notice that the preacher doesn't have a title. He will not be referred to as Pastor or Reverend. We just call him by his first name. He will not be wearing any ecclesiastical clothing which sets him apart. The reason for this is that we are all equal in the priesthood of believers.

At the close of the sermon, many times the preacher will "extend an invitation". This is simply an expedient time to invite those who are moved to do so to make a commitment or request prayer support. He will encourage those who wish to "respond" to come to the front of the auditorium, while the congregation sings a hymn. Some may respond for baptism, some to confess sins, some to ask for prayer for a specific need. If anyone responds for baptism, you may witness the baptism during the service. The baptism will be by immersion for the remission of sins (Acts 8:35-39; Romans 6:3-4; Colossians 2:12; Acts 2:38).

If you visit on a Sunday morning, the Lord's Supper will be included in the worship proceedings. Again, the reason for this is our desire to follow New Testament teaching. The first century church celebrated this observance every first day of the week (Acts 20:7) and so do we. It is a special time of reflection on what Jesus did for us on the cross, and a time to reflect on our own lives in relation to His will. During this memorial, plates containing unleavened bread, and cups of grape juice will be passed throughout the congregation. The bread symbolizes the body of Jesus. The grape juice, symbolizes the blood of Jesus (1 Corinthians 11:23-25). Each Christian is called on to participate in this memorial.


If you visit on a Sunday morning, trays will be passed to collect funds that are used to help the work of the Lord at South Gate (1 Corinthians 16:1,2). This is on a voluntary basis knowing that God loves a cheerful giver, and that we are told we reap what we sow.

When we come together we recognize we are sinners in need of the cleansing blood of Jesus (Mark 2:17; Romans 5:6-9; Ephesians 1:7; 1 John 1:7). Only by God's grace do we have the hope of eternal life. Because of His gift we want to worship together, stick together, and with His help, accomplish His will in our lives and make a difference in this world. You won't have to look very deep to find our failures, but you will also find good people who love God and the Bible. If you ever have any questions please let us know, and we will do our best to give you an answer from the Bible as we sincerely strive to be Bible centered Christians.